Original, functional and high quality vertical sauna is perfect for a garden or a backyard. It both decorates the environment and provides bathing pleasures. Also a regular use of sauna has obvious health benefits. Vertical sauna has better air circulation than other saunas, which makes it very attractive. This sauna's diameter is 2.45 m and height is 3 m, thus it takes up little space and is ideal for very small gardens or backyards.
Standard Set
Sauna benches;
Stainless steel tightening bands;
Safety fence for the heater/stove;
Heat-resistant plates for a heater/stove
6 tempered glass windows
Doors with a lock and a tempered glass window
Roof with bitumen shingles of your selected color
Oval shape sauna
Out of stock
What is a vertical sauna?
Vertical sauna is made from spruce wood (Thermo wood is also available if needed). Upon customer's request, we can install a wood-fired furnace or an electric heater in the vertical sauna. The thickness of the structure walls is 38 mm.
Foundation
It is very important to have a proper foundation for your Vertical Sauna. Therefore we recommend making the foun­dation according to the sketches here. First of all, the foundation must be prepared according to the landscape and ground conditions. Consult a qualified builder or an engineer to prepare a proper foundation, which fits your location.  Make sure to complete the site preparation and the foundation before unpacking and as­sembling the Sauna.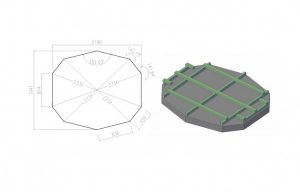 The sauna is delivered to the customer fully assembled, only a roof needs to be attached.
Size of the cargo (L x W x H): 2.6 x 2.4 x 2.5 m + 2 x 1.2 x 2 m. Weight: 1100 kg.
More Information
What's So Special
Quality
Traditions meets new technologies to create a high quality products.
Experience
More then 10 years of experience
Design
Modern design products for truly exceptional garden.