Luxurious, cosy and very popular Pavilion 10 m2 is designed for gatherings of a family or a group of close friends. It perfectly decorates a garden or a backyard. A lot of light coming inside through big pavilion windows and glazed doors makes your rest more than delightful.
Standard Set
Roof covered with bitumen shingles of your selected color;
Wall - roof panels
Solid floor
7 double glass windows (3 of them are opening)
Ventilation in the roof
Double doors with a lock and windows
Out of stock
---
Pavilion 10m2 Product Sheet HotBarrel
---
Pavilion walls are made of spruce boards with the dimensions 45 x 145 mm. A roof of the pavilion is covered with bitumen shingles, and there are seven big doubled glazed windows, three of which open. Besides that, the doors are double-hinged and glazed. Solid floor is easily assembled from separate components.
The pavilion is delivered to the customer fully complete, with detailed assembly instructions and drawings, and packed on a pallet (KIT).  Two people can easily assemble this pavilion in 5 hours.
Size of the cargo (L x W x H) : 2.40 x 1.55 x 2.65 m, weight: 1400 kg.
Available curtains colour: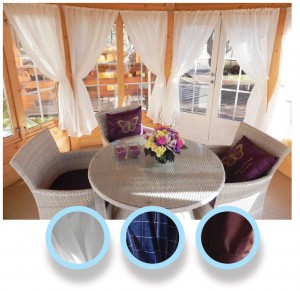 Available roof colours:

What's So Special
Quality
Traditions meets new technologies to create a high quality products.
Experience
More then 10 years of experience
Design
Modern design products for truly exceptional garden.