Spacious Pavilion 16.5 m2 with a grill in the middle is ideal for bigger gatherings of family and friends. It's suitable for resting or partying. At the same time, you can enjoy both lights coming through seven big windows and delicious grilled food.
Standard Set
Wall - floor - roof panels
Roof covered with bitumen shingles of your selected color;
7 double glass windows (3 of them are opening)
Double doors with a lock and windows
7 inside benches (2 of them are folding benches)
Adjustable chimney
Inside grill with the cooking platforms and a table around the grill
Cushions for the benches
Out of stock
---
Pavilion 16.5 m2 Product Sheet HotBarrel
---
Pavilion walls are made of rounded spruce boards with the dimension: 45 x 145 mm. A roof of the pavilion is covered with bitumen shingles, and there are seven doubled glazed windows, three of which open, integrated into the walls. Besides that, the doors are double-hinged and glazed. The floor of the pavilion is made of several parts. Also, there are seven benches in the pavilion; two of them can be easily transformed into sleeping benches: just turn over the additional board.
The pavilion is delivered to the customer fully complete, with detailed assembly instructions and drawings, and packed on a pallet (KIT). Two people can easily assemble this pavilion in 6 hours.
Size of the cargo (L x W x H): 3.80 x 1.20 x 2.55 m; weight: 1900 kg.
Available curtains colour: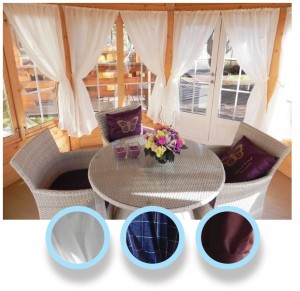 Available roof colours:

Available grill and chimney KITS:

Accessories for pavilion:

What's So Special
Quality
Traditions meets new technologies to create a high quality products.
Experience
More then 10 years of experience
Design
Modern design products for truly exceptional garden.