Insulated Camping Pod 2.4×4.8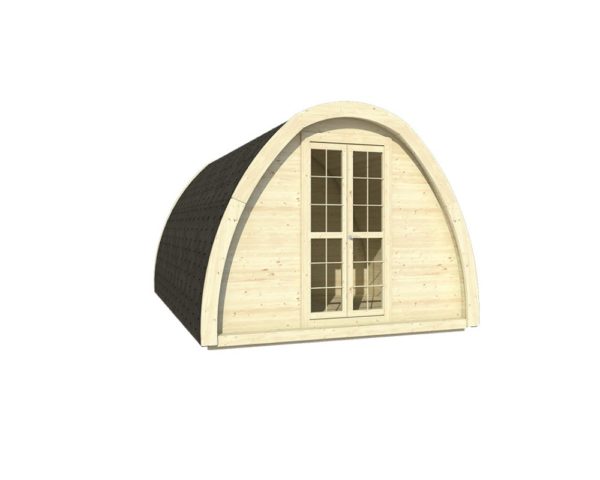 This product is spacious, warm and creates a beautiful ambient area for entertaining and relaxing. Insulated Camping Pod can be used all year round, however, the winter is when these superb buildings really come into their own.
Standard Set
Wall partition with the entrance;
Roof covered with bitumen shingles of your selected color;
Pod made from spruce with insulated walls and floor;
One double opening window in the back wall;
Two rooms inside - sleeping and living room;
Double doors with a lock and the double glass windows
Out of stock

Insulation.  Wall insulation. 1 – a wall made from spruce (38 mm); 2 – stone wool (50 mm); 3 – wind insulating film; 4- OSB panel (8 mm); 5 – bitumen shingles (3 mm). Panel insulation.  1 – a wall made from spruce (38 mm); 2 – stone wool (50 mm); 3 – wind insulating film; 4 – a wall made from spruce (12 mm). Floor insulation.  1 – floor made from spruce (28 mm); 2 – wind insulating film; 3 – stone wool (50 mm); 4 – OSB panel (12 mm).
MAINTENANCE
You should not forget that wood is a natural material, it changes move depending on weather conditions. Large and small cracks, colour tone differences and changes, as well as a changing structure of wood are not errors, but a result of wood growing and a feature of wood as a natural material. Natural wood (not impregnated) becomes greyish after having been left untouched for a while and can be turned blue and become mouldy. You should immediately process them with wood impregnations to protect the wooden details of our produced products.
We definitely recommend that you process the door and windows with a wood impregnation agent, and do it namely both inside and outside, because the doors and windows can become twisted. In general, we recommend for the conclusive finishing a weather protection paint that will protect the wood from moisture and UV radiation after the house is assembled. Consult a specialist regarding paints suitable for unprocessed softwood and follow the paint manufacturer's instructions. Your grill cabin lifetime will be much longer after having properly painted. We recommend that you inspect the house thoroughly once every six months.
What's So Special
Quality
Traditions meets new technologies to create a high quality products.
Experience
More then 10 years of experience
Design
Modern design products for truly exceptional garden.